Description
Having non-disruptive sleep means a happy and healthy doggy! The Orthopedic Anti-Anxiety Calming Dog Bed offers multiple benefits to ensure your dog receives the best sleep on a daily basis. 

Superior orthopedic comfort
Orthopedic, cozy, flexible, and finished with shaggy faux fur, our premium luxury calming dog bed is reminiscent of a mother's fur coat! Paired with deep crevices that allow your pet to burrow, your doggy will have a full, restful sleep for improved behavior and better health.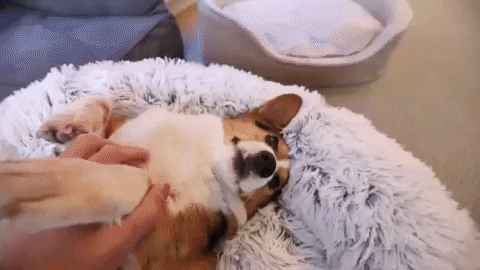 Grade A fluffy materials (beware of imitations!)
What separates our bed from our competitors? We use Grade A filler materials meaning New Bark City's dog beds are fluffier, softer, and more comfortable compared to our competitors! We don't skimp out on those fillings because your pet deserves more!

Supports better sleep & relieve joint/muscle pain:
The donut-shaped dog bed is designed to reduce stress and calm your pet's anxiety. The raised rim helps create a sense of security and provides additional head and neck support for your dog or cat. Additionally, the center is stuffed with super-soft filling to relieve any joint or muscle pain for your pets.

Trendy and versatile design :
Our luxurious anti-anxiety dog bed also comes with 20 beautiful colors and is a seamless addition to any room's decor! The bottom is also designed with an anti-slippery pad to prevent bed from moving across the house.

Pet-safe materials:
Durable nylon and luxurious faux fur come together to create environmental-friendly dog mattresses that are as practical as they are comfortable! Our orthopedic dog bed is also machine-washable and dry-friendly. Please note to dry immediately after wash.
SIZING SUGGESTIONS:
When choosing your dog bed, we suggest the 60x60cm  bed for dogs and cats up to 25lbs, the 80cm bed for dogs and cats up to 45lbs, and the 100cm bed for large dog breeds up to 90lbs.
Payment & Security
Your payment information is processed securely. We do not store credit card details nor have access to your credit card information.